A tiny teapot that spent decades in a garage gathering dust has sold for £390,000 at auction after a man unearthed it during a lockdown clearout.
The Chinese-enamelled wine ewer had been destined for a charity shop after being left in a garage and then an attic for years.
But on the off-chance it might be worth something, its 51-year-old owner decided to try his luck and show it to an auction expert.

The expert revealed the 15-cm tall pot was in fact a rare imperial antique dating back to the Qianlong period between 1735 and 1799 and could fetch around £100,000 under the hammer.

But when it went on sale on Thursday at Hanson Auctioneers it smashed its original target and reached a huge £390,000.

The seller, who watched the auction live at home with his brother and family, said: "I'm thrilled. This will change a few things for us all. It's come at a really good time.

"I got a few cans of Guinness in beforehand. We'll be going for a drink tonight and toasting grandad."

The teapot had been in the family since the seller's childhood and, at one stage, was kept in a cabinet in the house before being left in an outbuilding.

The family believes it was brought back to England by their grandfather who was stationed in Asia during the Second World War and was awarded a Burma Star.
unearthed - discovered, found
fetch - be sold for a particular price
clearout - cleaning up
enamel - a decorative glass-like substance that is melted onto clay, metal, or glass objects, and then left to cool and become hard, or an object covered with this substance
under the hammer - in an auction
toasting (toast) - an expression of good wishes or respect for someone that involves holding up and then drinking from a glass of alcohol, especially wine, after a short speech
outbuilding - a building not connected to the main house, like a shed or garage
station(ed) - to cause especially soldiers to be in a particular place to do a job.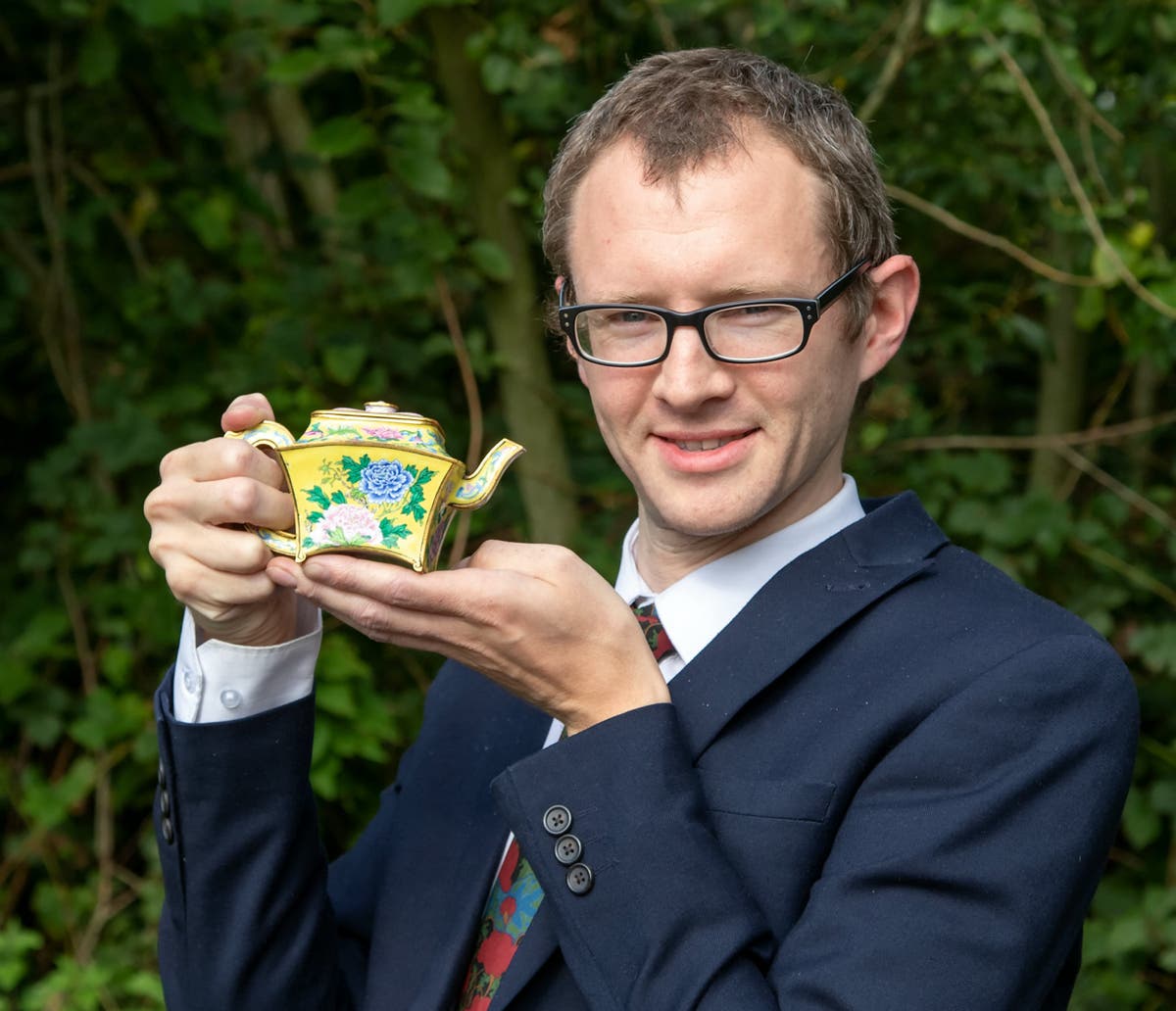 It was only estimated to be worth £100,000 by the auction expert
www.independent.co.uk