The bar chart below shows the top ten countries for the production and consumption of electricity in 2014.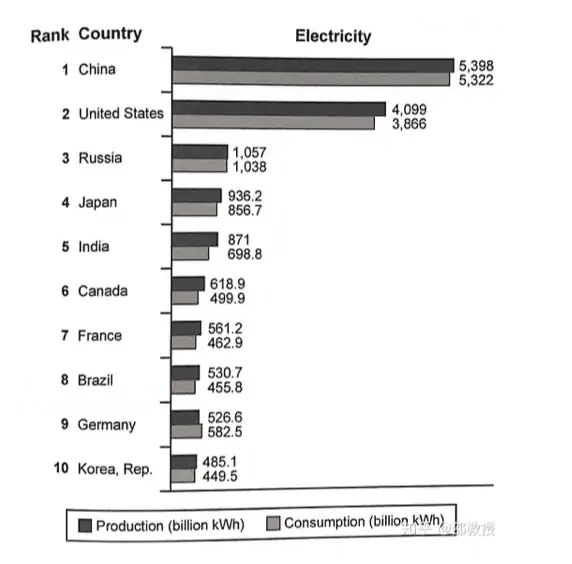 The bar chart compares top ten nations in the world in terms of electricity generation and utilisation in the year 2014.
Overall, all the nations except Germany produced electricity more than utilising it with the largest production and consumption belonged to China.
It can be seen from the chart that the amount of electricity created and consumed in China was approximately the same at nearly 5.4 thousand billion kWh, which were the highest figures from the chart. The figures were still true for the United States and Russia with nearly 4 thousand billions kWh and 1 thousand billion kWh respectively. The five following countries,namely Japan, India, Canada,France and Brazil all had the amount of electricity produced at about 100 billion kWh more than that consumed.
A striking point is that Germany expended electrical energy more than generating it, at about 582 billion kWh and 530 billion kWh respectively. On the other hand, Korea Republican had the lowest figure of top ten on both electricity management and expenditure, at nearly 485 billion kWh created, which was slightly more than that consumed at about 450 billion kWh.