The first chart below shows how energy is used in an average Australian household. The second chart shows the greenhouse gas emissions which result from this energy use.

Summarise the information by selecting and reporting the main features, and make comparisons where relevant.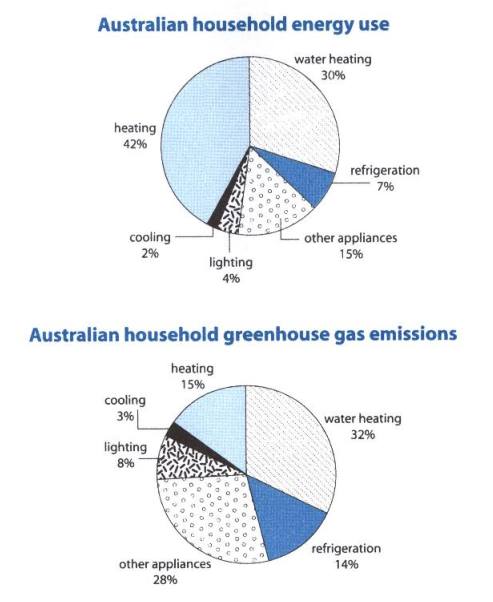 The first pie chart illustrates how a typical Australian household use energy for six particular purposes. The second one gives information about the proportion of gas emissions due to each kind of energy use. It is obvious that heating is the most common consumption of energy while water heating releases the largest amount of gas emissions into the environment.
In the first pie chart, it can be seen that people spend most of energy for heating with 42 percentage of heating and 30 percentage of water heating. However, heating do not discharge much gas emissions with only 15 percent. On the other side, the largest source of gas emissions is water heating with over 30 percent. Other appliances also accounts for 15 percent use of energy which lead to second highest gas effusion with 28 percent.
On the other hand, refrigeration, lighting and cooling are not used much in the household with only 7 percent, 4 percent and 2 percent respectively. As a result, they emit low amount of gas into the environment with the lowest of 3 percent for cooling.